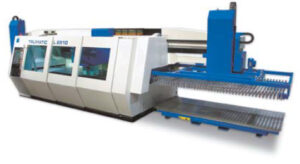 Recently, we have expanded our array of services to included metal laser cutting.
Our Trumpf TRUMATIC L 2510 utilizes its rapid in-line load & unload device for all material handling tasks, eliminating the need for the traditional pallet changer.
It allows us to cut more parts per day. With material changeover times of less than one minute, the L 2510 offers maximum efficiency during manned operation. To further improve throughput, the L 2510's standard automatic load and unload system allows unmanned production.
Having a cutting bed of 10'x4′, Pro-Solution TM can cut a wide range of material dimensions. Moreover, the 2000W laser source can be used to cut several thicknesses needed for your products made of stainless steel, mild steel, aluminum, and galvanized.
| Maximum Sheet Thickness |   |
| --- | --- |
| Mild Steel | 1/2 inch |
| Stainless Steel | 1/4 inch |
| Aluminum | 3/16 inch |
Contact us to help you keep your projects on track!